CUSTOM CPR classes by a teacher who has over 20 years of experience.
A FUN, entertaining, and unforgettable way to learn CPR, First Aid, and other related topics.
Choose between American Red Cross and American Heart Association for your certification.
Flexible class times.
Discounted rates for Non-profit clients.
We DON'T cancel classes.
Classes in Spanish or English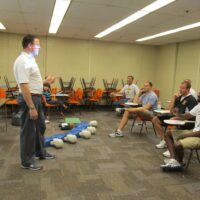 Our Clients:
Some of our recent clients include Silver-Springs Martin Luther School, Ursinus College, Chubb Conference Center, Bonhomie ADC, and Victory Early Learning Center (VELA)  .  Shoen Safety also offers Lifeguard Training and Inservice Training at Suburban Seahawks Swim Club and  Springfield Country Club.
What you'll learn:
Do you know CPR?  How about First Aid?  What would you do if your child was choking?  How about if they got a burn?  High fever?  Seizure?  Learn this and more from expert John Shoen.    Move along to the beat of "Stayin' Alive" as you learn the patented dance of CPR.  Practice hands on techniques until YOU feel comfortable performing CPR and Abdominal Thrusts.  Learn the latest in allergy care, wound care, and life saving techniques.
Topics Include:
CPR and Choking Care ("Stayin' Alive)
Reach or Throw don't go (Pool Safety)
Mr Yuk and Poisoning
Too Hot!  (Fever Care)
"I vant to wrap your cut" (wound care)
I can't believe they used butter (Burns)
R.I.C.E, it's not just for Dinner anymore.
Take it' off baby (heat and cold related emergencies.)
Have you ever suffered through a lousy class where someone showed you tons of long videos and read textbooks too you as you struggled to stay awake?  See why folks choose Shoen Safety to teach all their safety training classes.   We will even come to your home!  Why sell random stuff when you can get together over snacks and learn to keep your family safe!  Located conveniently in the Philadelphia Suburbs, classes are offered in the greater Philadelphia, NYC, and Metro DC area.
Call us today to learn how you can save a life! 610-745-2274