June 24-25 Lifeguard Training at LPSC
June 24 @ 9:00 am

-

June 25 @ 8:00 pm

$175.00 – $350.00
Join us for American Red Cross Lifeguarding certification and recertification class. You'll learn the basics in water safety and the proper protocol when dealing with any emergencies around water. You'll also learn effective techniques to deliver prompt care to those in need and how to respond safely and efficiently to water emergencies. You'll receive your Lifeguarding Certification, which is valid for 2 years.
This is an outdoor heated pool. Please also bring anything that will keep you warm outside such as a blanket, cup of hot chocolate, etc. Please bring a bathing suit, towel, pen, and a packed lunch. Prior to class, you must complete the online portion and bring proof of completion to class (instructions below).
Date: Saturday, June 24 and Sunday, June 25, 2023
Time: 9a – 8p Saturday and 9a – 8p Sunday
Location: Lawrence Park Swim Club
293 Langford Rd
Broomall, PA 19008
Cost: $350 for lifeguard certification and $175 for lifeguard recertification.
*Times may be adjusted based on pool availability and number of students.
Purchase an event ticket at the bottom of this page to register.
**No refunds will be given for purchased tickets. Please read our cancellation policy here: https://shoensafety.com/cancellation-policy/
Once you purchase your ticket, you will need to access and take the online portion prior to your class. Please go to https://shoensafety.com/resources/ and select Lifeguard Blended Learning Course.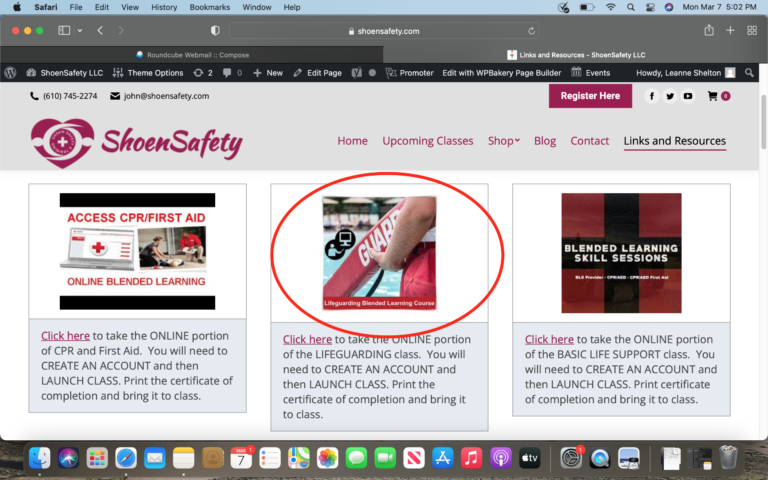 Instructions:
1. Click course name.
2. Click create account.
3. Log in and click launch course.
4. Once completed take a picture or print your certificate to bring to class.
Digital participant class materials are available at this link: https://www.redcross.org/take-a-class/participant-materials.
Related Events