By Leanne Shelton
Meg Root, a nurse and Shoen Safety alum, and a team of Johnson & Johnson employees have saved the life of one of their own colleagues with the use of a Philips HeartStart AED and CPR!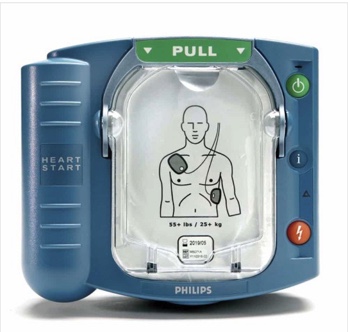 Late in the afternoon on January 9, 2020, Sharon Price found a colleague unresponsive and cyanotic in the cubicle. Cyanotic means there was a blue/gray skin color around the nails, lips, and/or eyes due to low oxygen saturation. She immediately began yelling for help and alerted the emergency response team.
Meg was in her office and heard the call for help. She immediately instructed colleague Kevin Bennett to begin CPR. She ran to the emergency cabinet and grabbed the AED and some other equipment. When she returned, she got the patient to the floor, ripped his shirt off, and applied the AED.
The AED immediately advised that a shock be given to the patient. Meg followed the instructions, shocked the patient one time, then followed the instruction to resume CPR. Soon after, the patient started to "come to" and moan. Meg applied the oxygen and put the patient in the post-resuscitation position. She assessed his vitals as EMS arrived, took over care, and transported the patient to the hospital.
In addition to Meg, Kevin, and Sharon, Peter Arnold, Carmen DiJulio, Gabriella Fantozzi, William Hill, and Anand Shepherd all assisted with the incident. Congratulations on this wonderful team effort in saving the life of a fellow colleague! Well done!
Thanks to Brian Eckman for providing the information to recognize these employees.
For more information on AEDs, CPR, or other life saving techniques, contact Shoen Safety & Training. To learn CPR and more and become American Red Cross certified, register for a CPR/First Aid class with Shoen Safety & Training. There are a lot of options available to fit your schedule. The peace of mind that you'll get from knowing how to respond in an emergency situation is priceless.