LifeVac: Created to Save Lives from Choking
By Leanne Shelton
As I mentioned in a previous blog post, when I was pregnant with my first son, I was so afraid of him choking and not knowing what to do that I became CPR certified. I didn't know this at the time, but one child dies every five days from choking. It is a leading cause of death among children. That is a scary statistic!
According to the National Safety Council, choking is the fourth leading cause of unintentional injury death. In 2015, 5,015 people died from choking. More than half of those people were older than 74.
There are ways to prevent choking. Eat slowly and chew your food well. Sit up while eating. Don't talk while you eat. If you are feeding a child, cut the food into small pieces, encourage the child to chew slowly and completely, keep small objects out of reach.
Even with all these preventative measures, we know people still choke. There are ways to help a person who is choking, such as back blows and the Heimlich Maneuver. These techniques sometimes fail, and people still die.
This is the ver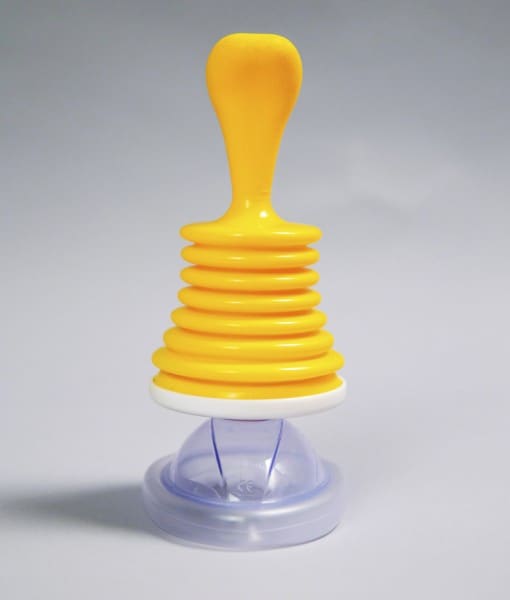 y reason that Andrew Lih created the LifeVac. He overheard a mother weeping in the hospital after her son died because he choked on a grape, and the Heimlich Maneuver failed. He was determined to create a device that could clear an airway.
To date, the LifeVac has saved 20 lives and counting! The LifeVac is a non-powered, non-invasive, portable suction device used to clear an upper airway obstruction when current choking protocols have been followed without success. The LifeVac is safe and effective because the duration of the suction is minimal. It can even be used on oneself!
To use the LifeVac, insert the mask into the unit with a twisting motion while applying pressure. Ensure that the mask is attached to the unit before use. The stem of the mask does not need to be completely inserted into the unit.
Place the mask and hold firmly over the nose and mouth while holding the chin upward.
While holding the mask down with the chin up, use your other hand to push the handle down.
Pull the handle upward with a short, swift tug while holding the mask firmly in place.
Roll the person onto the side and sweep the mouth to clear any debris. Repeat as necessary.
The LifeVac is quick, easy, and safe to use. This is something that everyone should have. Parents, business owners, churches, anyone who lives alone, seniors, latchkey kids – this life-saving device is for anyone and everyone!
To purchase yours, click here:
To learn how to use this device and much, much more, register for a CPR/First Aid class with Shoen Safety and Training. There are a lot of options available to fit your schedule. The peace of mind that you'll get from knowing how to respond in an emergency situation is priceless.
*As an Amazon Associate I earn from qualifying purchases.
Please view the video below demonstrating how to use the LifeVac.